A great corporate event for up to 1,000 people?
Searching for an exceptional venue to host a remarkable corporate event or teambuilding day for up to 1,000 attendees?
Look no further than Fun Beach Event & Leisure Park. This one-of-a-kind location seamlessly blends sports, beachside ambiance, and relaxation with vast space and limitless possibilities. With its capacity to accommodate up to 1,000 guests, Fun Beach is an ideal choice for medium to large corporate events, ensuring an unforgettable experience.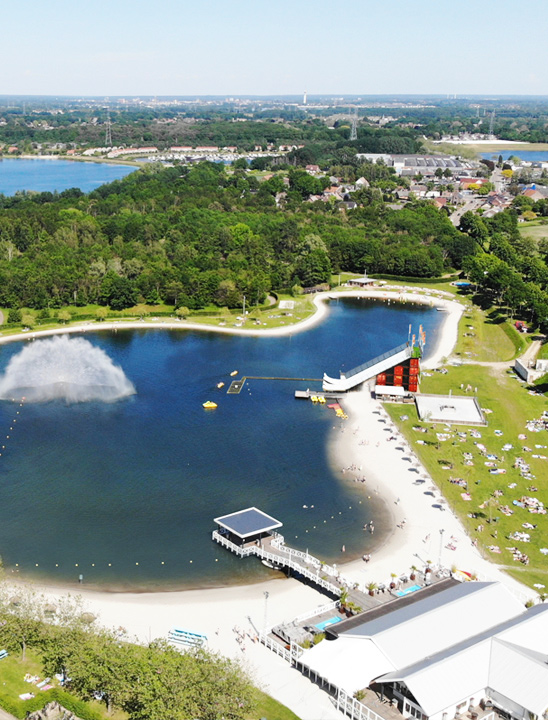 30+ Years of Unparalleled Group Events
With humble beginnings in 1989 organizing mountain bike rides in the Ardennes, Fun Beach Event & Leisure Park has blossomed into a one-of-a-kind beach and event destination in the heart of Limburg.
Fun Beach is not only renowned for offering thrilling activities for large groups but also for hosting unforgettable party nights, grand presentations, and an exclusive beach club experience. The Event & Leisure Park encompasses three main components: the vibrant day beach, captivating group events, and the exquisite Beachclub Degreez. As Organice, we have also been orchestrating remarkable corporate events throughout Limburg for years, including elaborate staff parties, company events, openings, anniversaries, and kick-offs.
From orchestrating events for the Floriade to catering to the Roermond Outlet Center, from delivering group activities for Vodafone to curating a private festival for Laurentius Hospital—over the course of three decades, we have successfully executed virtually every special event assignment imaginable.
Unleash the Competitive Spirit with a Customized Sports Tournament
Are you in search of an action-packed day for your guests and staff? Look no further than the beach, the perfect setting for a thrilling experience. We are delighted to arrange a range of group activities for your guests, including an exhilarating beach volleyball tournament. With our extensive expertise, we ensure a seamless event where participants compete in teams vying for your company's coveted champion's cup!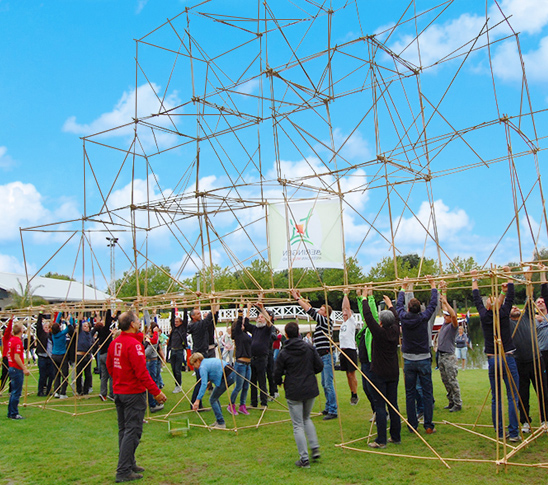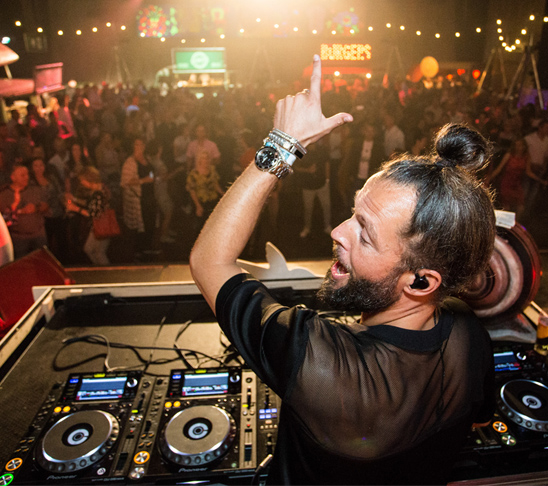 Elevate Your Company Experience with a Festival
Looking to create an extraordinary and unforgettable event for your company? Imagine a festival exclusively dedicated to your organization. That's exactly what we can offer—an immersive experience like no other. Just like "Laurentiusland," a bespoke festival we organized for Laurentius Hospital. This exceptional event featured distinct areas, talented artists, captivating stages, delectable food trucks, and engaging fringe programming. From start to finish, we took care of every detail, including the design of the flyer. It was a truly tailor-made festival, meticulously crafted to meet their specific needs and desires. Let us bring the same level of creativity and expertise to curate an unforgettable festival experience exclusively for your company.
Easy to reach, central location in the South
Conveniently located at the heart of Limburg in the southern region, Fun Beach Event & Leisurepark offers easy accessibility.
Just a short 15-minute drive from Roermond and Weert, it is easily reachable via the A2, A73, and N273 motorways, and is in close proximity to the Belgian and German borders. Maastricht Aachen Airport and Eindhoven Airport serve as the nearest airports, making Fun Beach readily accessible for both national and international guests. Ample parking facilities are available around the site to accommodate visitors.
An award-winning location
Recognized for its commitment to sustainable entrepreneurship and care for people and the environment, Fun Beach Event & Leisure Park has received numerous accolades. It has been honored as one of the top 10 beaches in the Netherlands by ANWB and Beachclub Degreez has been the proud recipient of the MeetingReview Award for Best Event Location in the Netherlands for three consecutive years. Additionally, Fun Beach has been awarded the Blue Flag, a significant recognition for beaches with clean and safe water, for over a decade.
Unlimited possibilities
With our extensive experience in organizing exceptional events and the creative expertise of our event managers, we are well-equipped to create a unique and unforgettable corporate event for your company. No question is too outrageous, and we thrive on turning ideas into reality.
If you're seeking to host an extraordinary corporate event, reach out to us to explore the boundless possibilities we offer.