FUN BEACH THE BEACH IS CLOSED
We look forward to welcoming you again next year. Fun Beach The Beach will be open again from May 1, 2024.
UNLEASH THE FUN: EXCITING ACTIVITIES FOR EVERY AGE AT FUN BEACH
Fun Beach is more than just a serene beach retreat; it's a haven for action-packed adventures that cater to all ages. Whether you seek an adrenaline-fueled escapade or a day brimming with thrilling experiences, Fun Beach has an abundance of offerings to satisfy your desires.
Below, you'll find a comprehensive overview of the myriad activities available at Fun Beach. And the best part? The majority of these exciting endeavors are included in the entrance fee, ensuring endless entertainment and a guarantee of fun for all!

PLEASE NOTE: Tickets can only be purchased online. We do not sell tickets at the ticket window!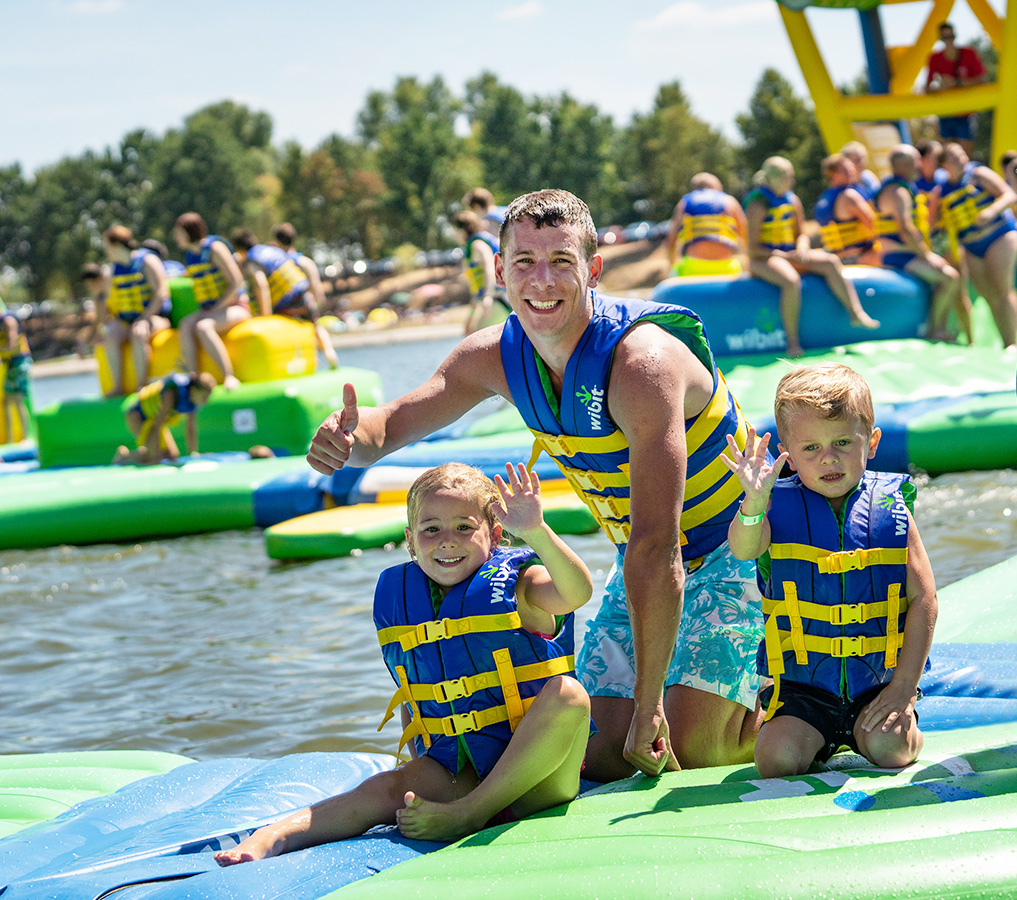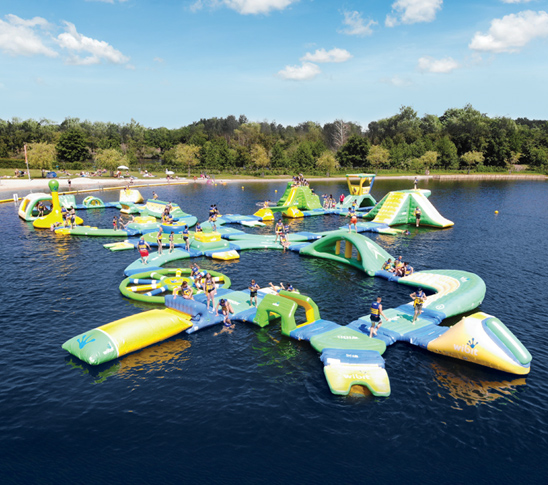 THE LARGEST AQUAPARK IN THE NETHERLANDS
Dive into the Ultimate Water Adventure at Fun Beach: The Beach's Mega Aquapark. As the largest Aquapark in the Netherlands, this exhilarating attraction boasts a sprawling 2,000 m2 island filled with floating play equipment, nestled right in the heart of the water. Prepare to be mesmerized by its captivating sight and immerse yourself in a true haven of playfulness. Whether you're a fan of climbing, sliding, or jumping, this aquatic paradise promises endless delight for all who seek thrilling exploits.
Introducing the Super Slide!
Are you ready to take the plunge?
Picture yourself standing at a staggering height of 14 meters, peering down one of the colossal water-jumping ramps. Once you make the leap, there's no turning back: the question is, do you dare?
Prepare for an adrenaline-pumping adventure at Fun Beach's latest water attraction. Brace yourself as you zoom down the slide, propelled by the rushing water, experiencing an exhilarating speed like never before. It's an extraordinary thrill that promises a first-rate experience!
Please note: The Super Slide is exclusively available to individuals aged 16 and above, ensuring an unforgettable adventure for those seeking an extra dose of excitement.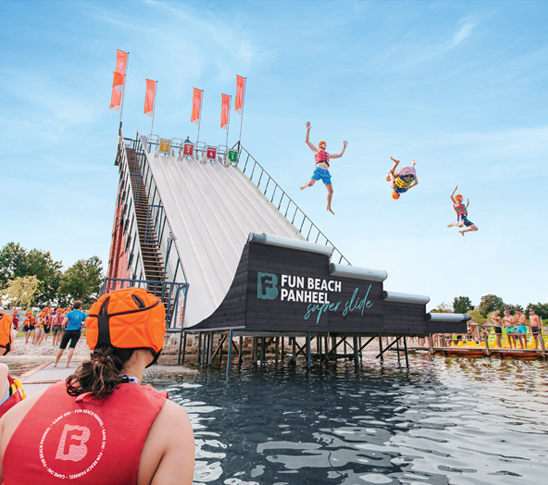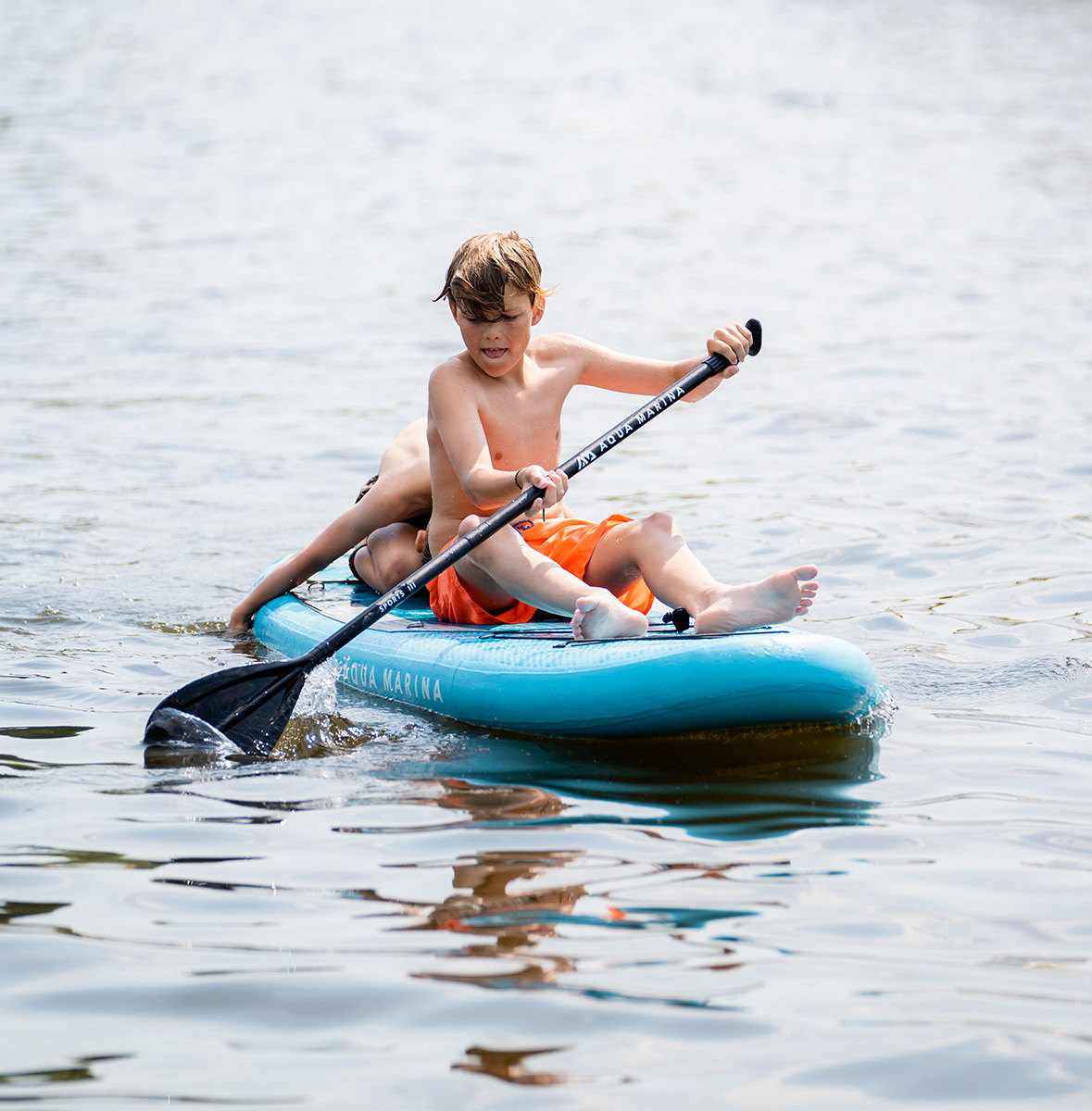 AQUAFUN rental
Indulge in 45 minutes of blissful floating on the water, basking in the warm sun, or engage in a friendly competition by challenging your friends to sail under the enchanting fountain. Fun Harbour offers an array of pedal boats, canoes, and SUPs eagerly awaiting your arrival.
Additionally, we offer parasol sets complete with two sunbeds, lockers, and single sunbeds for rent. Act swiftly, as availability is limited!
Please note that all rentals must be booked exclusively through our website, ensuring a seamless and convenient experience. Don't miss out on securing your spot!
LITTLE BEACH
Welcome to Little Beach, an enchanting playground designed exclusively for children up to 12 years old. Here, young visitors can immerse themselves in a world of uninterrupted fun, exploring a plethora of exciting activities and thrilling new attractions. Get ready to embark on an adventure filled with discovery and endless enjoyment!
With a strong emphasis on family-friendly environments, Little Beach proudly stands as a smoke-free zone, ensuring a safe and healthy space for families with young children to create lasting memories.
New in 2023: Junior-aquapark and a mega playground.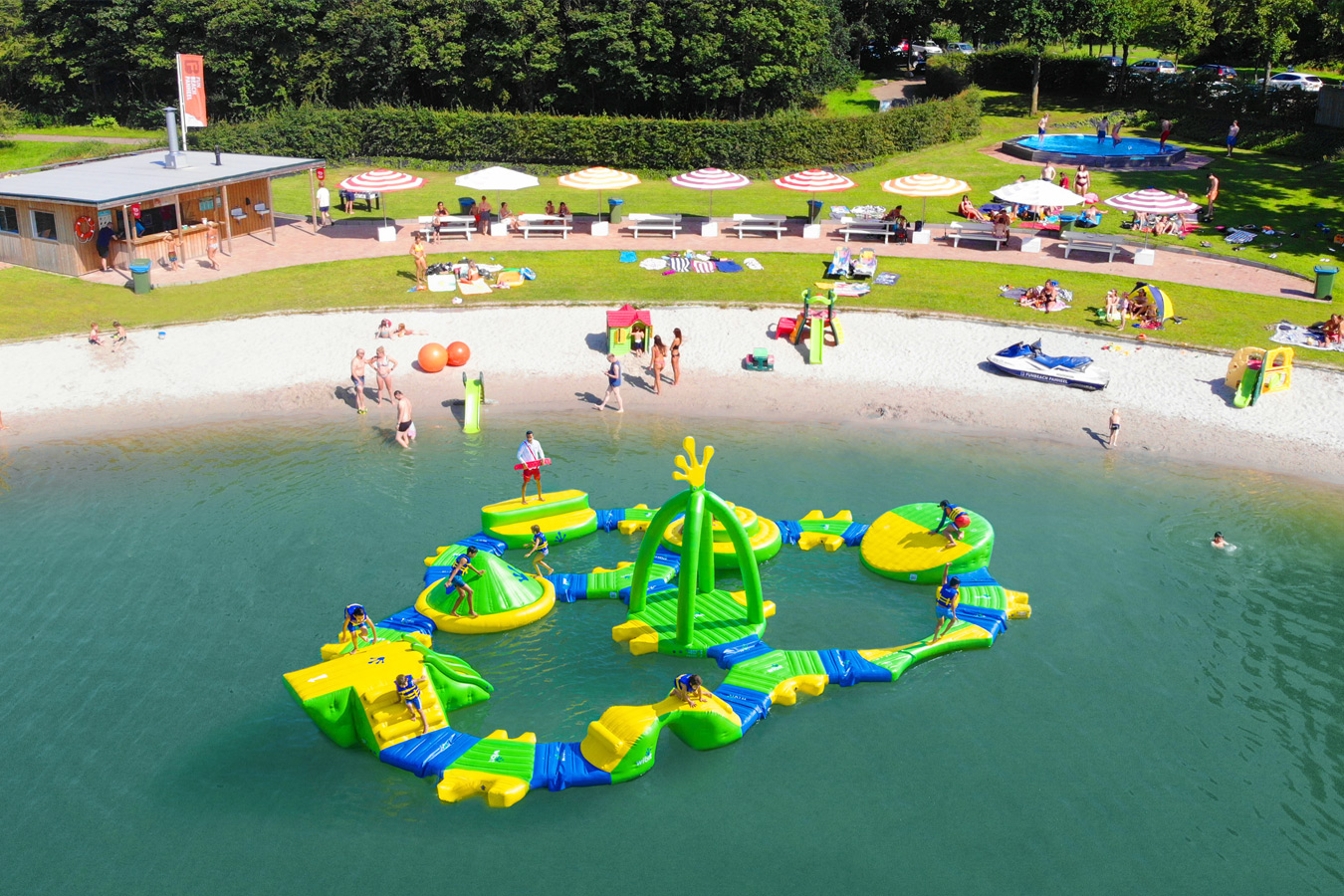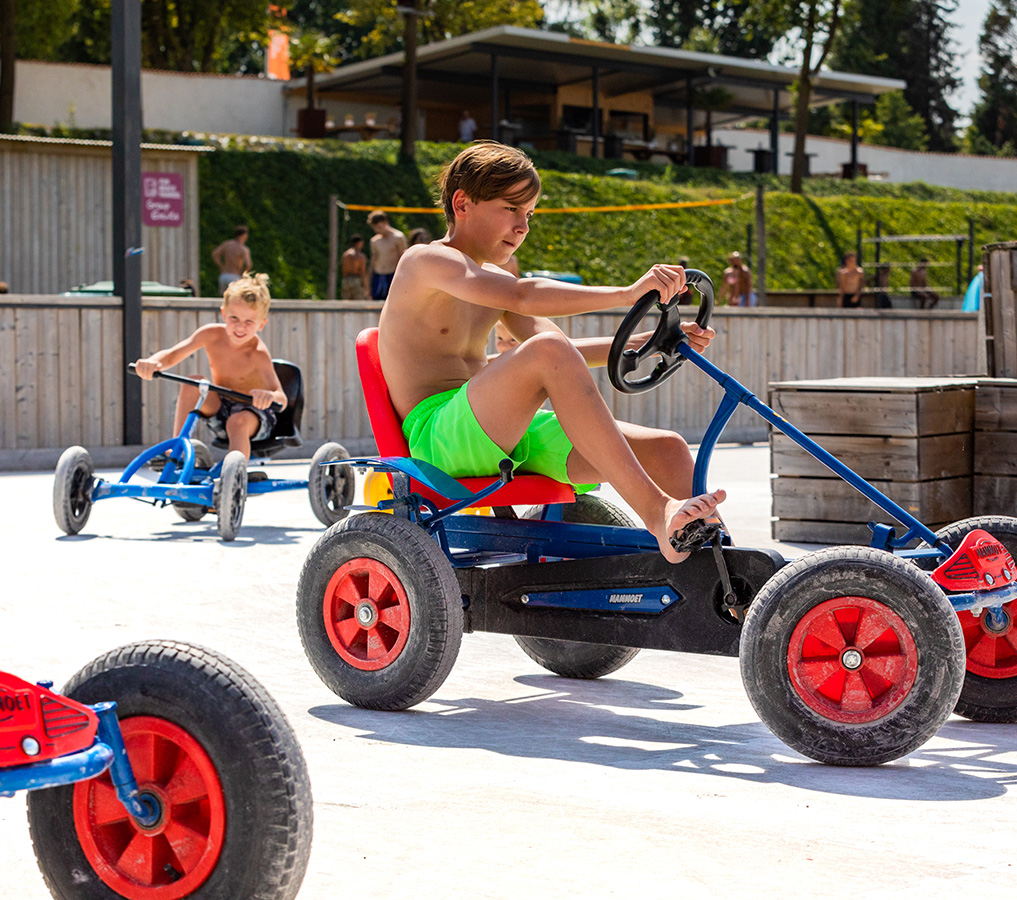 New: Go Karts!
GO GO GO! New at Fun Harbour: the splashing Fun Beach Go-Karts! With these four-wheelers, you can race to the finish as Verstappen or Hamilton in no time. Which of your friends is the fastest?
With every visit to Fun Beach, you can use our new Go Karts for free.
Beach view
Lounging with an iced cocktail and a super tasty beach burger fresh from the grill? Beachview is the place to be with the best view on Fun Beach.
You can enjoy the sun until 19:00 on Beachview's lounge sets. Prefer lounging with music? Then make use of the free Silent Disco headphones!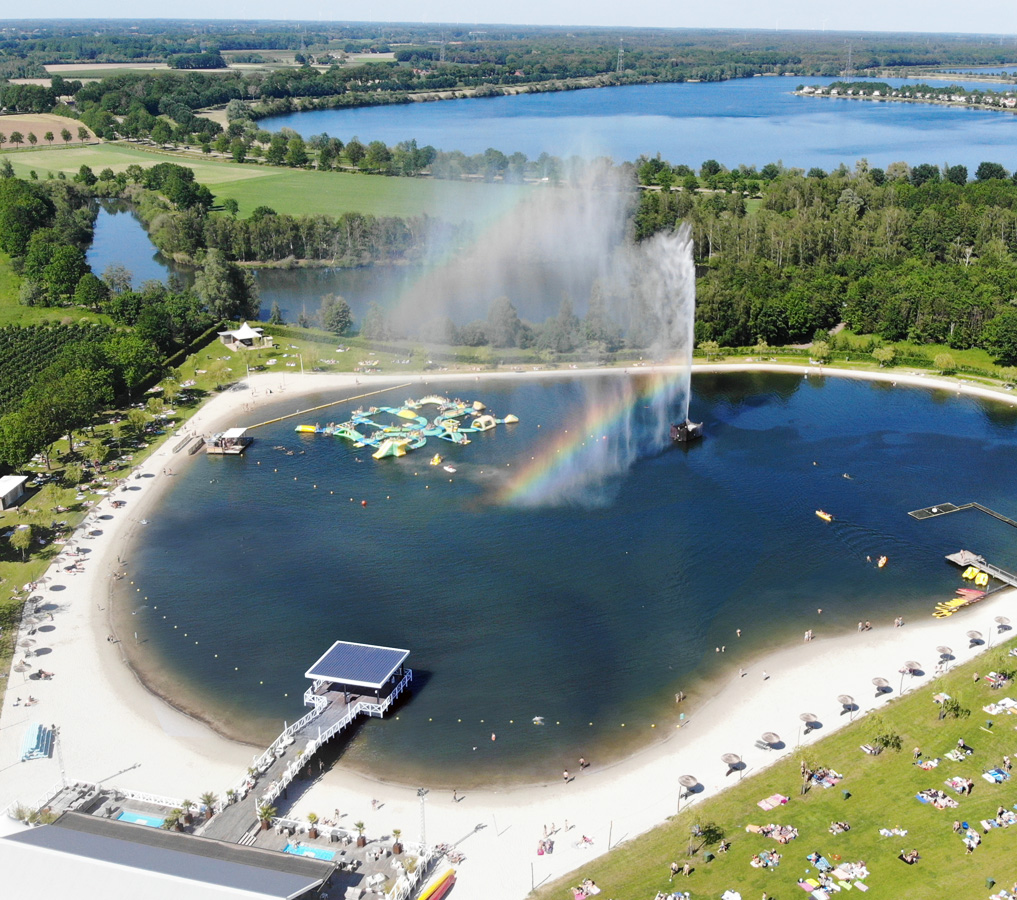 FUN BEACH FOUNTAIN
The literal and figurative highlight of Fun Beach Event & Leisure Park is the Fun Beach Fountain.
On hot summer days, this spectacular giant fountain is the eye-catcher of the Midden-Limburg Maasplassen area and with its maximum spray height of no less than 120 meters. This makes Fun Beach Fountain one of the tallest fountains in the world.
Super beach,
safe & clean
Named one of the top 10 beaches in the Netherlands by ANWB, Fun Beach has also been the proud recipient of the blue flag: the European hallmark for clean and safe water, for more than 10 years.
At Fun Beach, you will enjoy a wonderful day at the beach in a great waterfront location. A place for young and old!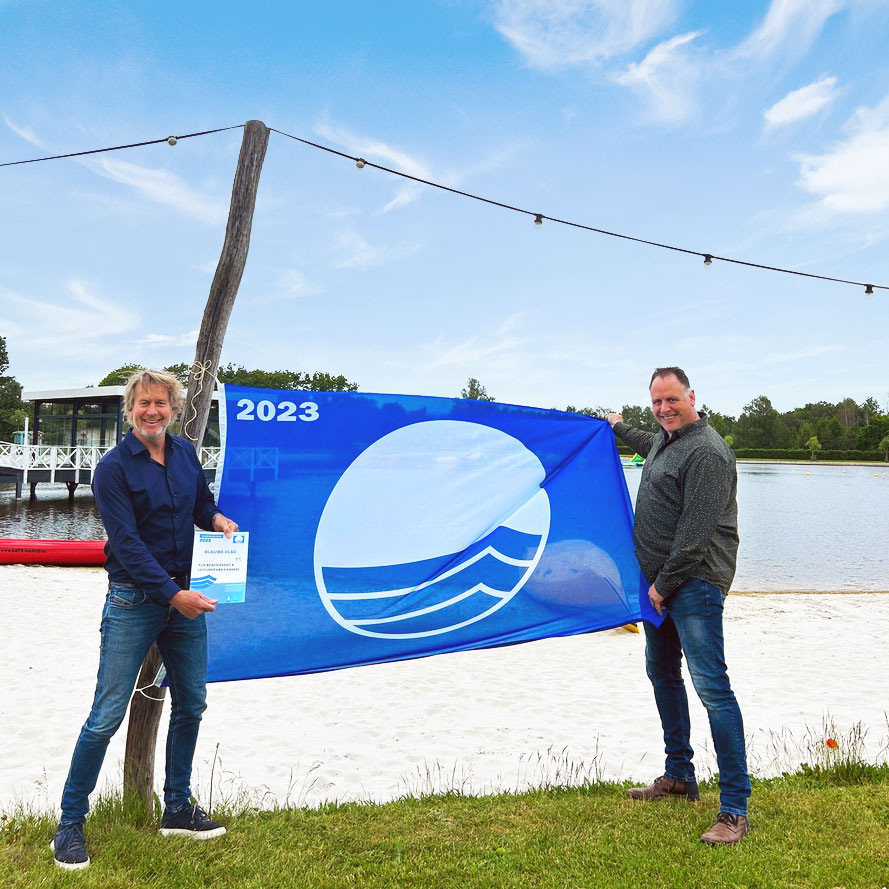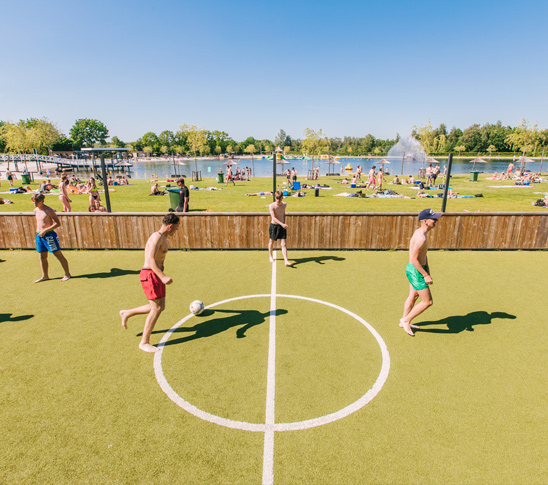 Football boarding
Make your beach day complete with a nice game of football. At our football boarding area at Fun Beach you can play football with or against your friends. Make two teams and choose a side! Who will score the most goals?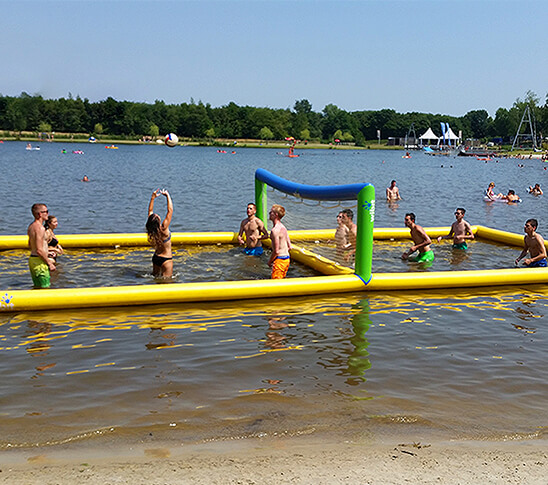 WATERVOLLEY
Smash. dive and jump! Water volleyball is one of the most fun sports activities in the water. Play with or against your friends and make sure the ball ends up in the water with your opponent! Will you claim that splashing victory?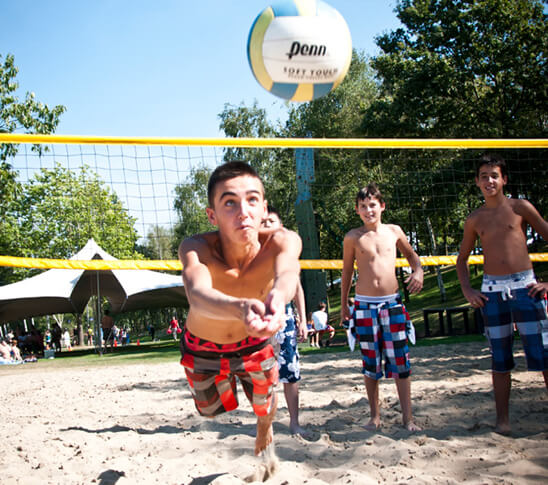 Beach volley
Challenge your friends to a game of beachvolley on the beach and make the most spectacular saves in the sand. Beachvolley is one of the most famous beach sports and you can play it now at Fun Beach!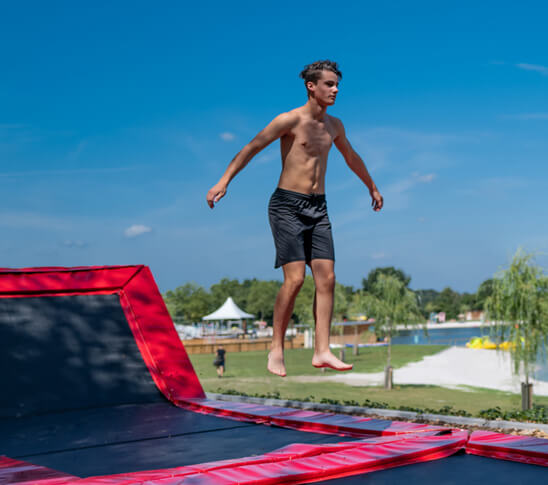 CURVE-ONE
Have fun on the CURVE-ONE: the latest trampoline revolution! Thanks to the tilting jumping mat, the trampoline can be set at an angle, or just flat. In short, a super trampoline for ultimate fun and lots of jumping fun! Suitable for children from 6 years of age.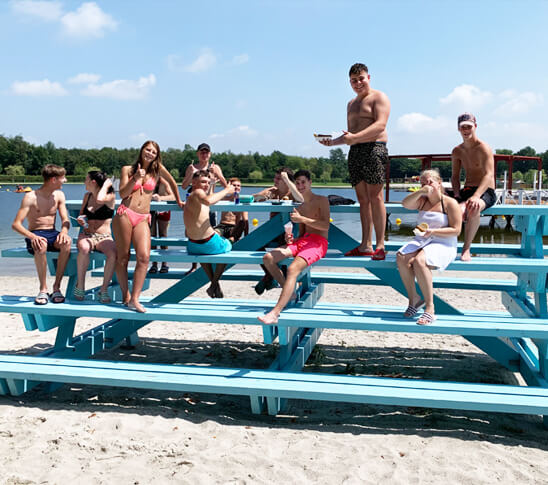 GIANT PICKNICK TABLE
A giant picnic table where you can seat as many as 60 people for satisfying your appetite. You've never seen anything like it! And do you know what is also nice? The kids can also have a great time clambering around the Giant Picnic Table.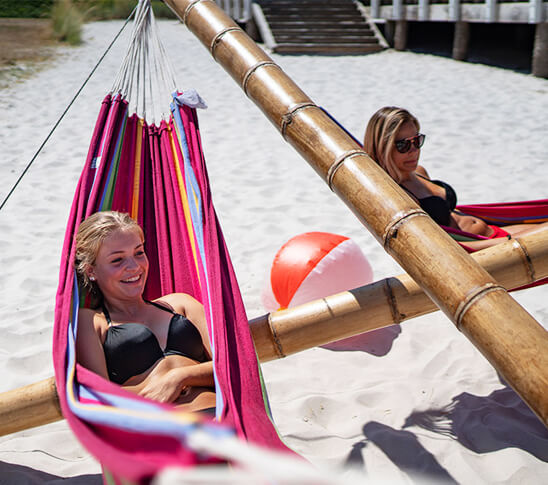 RELAX AREA
In the hammocks of the shady Relax Area, you will imagine yourself on a desert tropical island and completely unwind. What a great place to hang out! Get away from it all and chill out!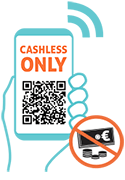 Fun Beach Event & Leisurepark is completely cashless!
This means that we no longer accept cash and that you can easily and quickly pay for all Fun Beach orders with a debit card or mobile payment. We do this for your safety and ours. Moreover, we do this to avoid queues so everyone can be helped faster. Did you know that you can even reserve your beach bed, parasol, canoe, SUP, and pedal boat online in advance?

CASH IN POCKET? EXCHANGE YOUR CASH FOR A FUN BEACH CARD
We are introducing the Fun Beach Card for people who still want to pay cash. This card is available at the entrance and can be topped up from €10. The Fun Beach Card can be spent at all our food & drink points. The credit is valid for two years after activation and cannot be paid out in cash.
The developments at Fun Beach were made possible by: