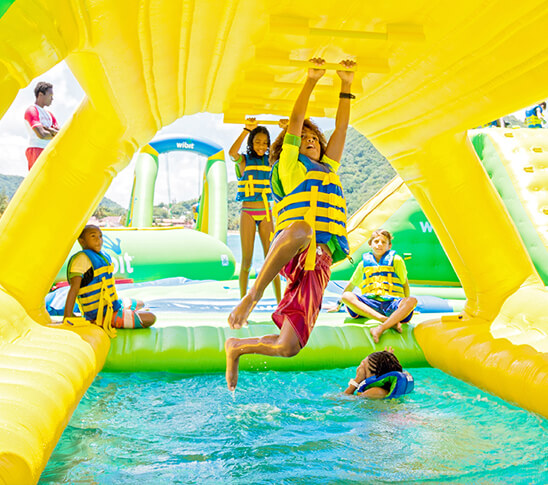 FUN BEACH mega AQUAPARK: THE BIGGEST AQUAPARK IN THE NETHERLANDS!
It's an amazing sight to behold: A 2.000 m2 big island in the water consisting of several floating, playground objects. A true wonderland for everyone who loves to climb, slide and jump. The Mega Aquapark is the biggest aquapark in the Netherlands and the ultimate attraction of Fun Beach the Beach. Swing from the monkey bars, imagine you are a cowboy on the rodeo slide, launch yourself from the flipper and show your skills on the halfpipe and hurdle. Our aquapark has something for everyone, young and adult.
Access to the aqua park is included in the entrance fee.
However, you will need an admission ticket.
You can obtain this by scanning your ticket or season ticket at the aqua park reservation kiosk.
Please note: access to the aqua park is only possible if you have sufficient swimming skills and are at least 6 years old.
HoW DOES IT WORK?
No queuing at the aquapark, there is a reservation kiosk
There is an aquapark reservation kiosk at Entrance West (near Beachhouse/freezer). You can use this reservation kiosk to obtain an admission ticket for the aqua park. You must show this ticket at the entrance to the aqua park at the time you receive it from the kiosk.
How does the kiosk work? You can scan your valid online ticket or registered season ticket at the column. It will then immediately print an admission ticket with the allocated time and a barcode. You cannot determine the time yourself. The column will assign you the first available time slot. Go to the aqua park at the time allocated, and your ticket will be scanned. You no longer have to wait in the queue.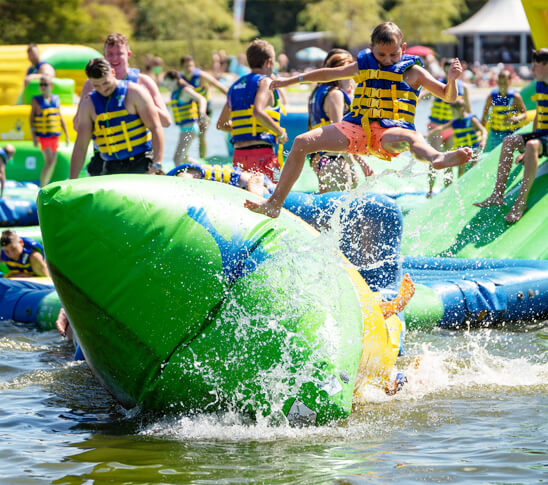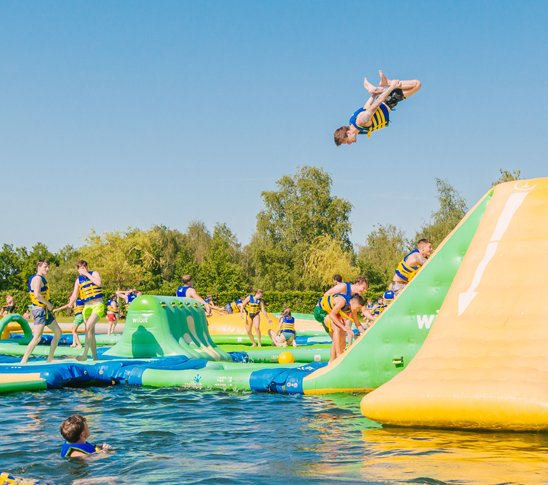 Can I enter the
aquapark just ONE more TIME?
If it is a normal summer day, you can get another ticket at the kiosk after your last aquapark visit.
If it is a tropical warm day and it is busy, we want to give everyone a chance to go to the aqua park.
In that case the column will only give one ticket for that day per valid online ticket or registered season ticket.
FREE ENTRY
You don't have to pay extra to enjoy the aquapark, it's included in our entrance price.
How does it work?
Life jackets are handed out at the aquapark. These are mandatory.
Return your life jacket afterward.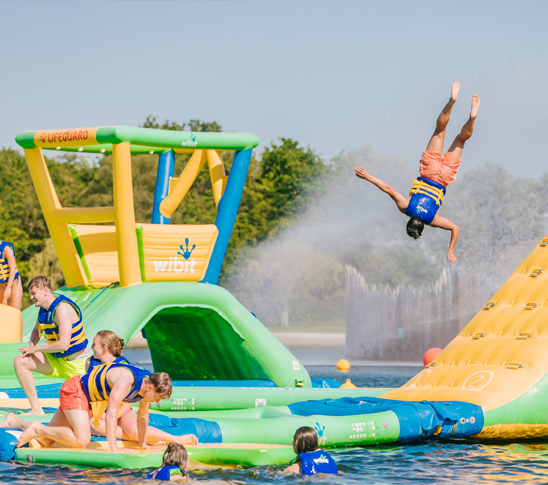 Mede mogelijk gemaakt door de Provincie Limburg