flyboarding in LIMBURG AT fun beach the beach
I believe I can fly, I believe I can touch the sky. Fun Beach Event & Leisurepark is offering this spectacular watersport attraction: The Flyboard experience! A sensational new sport that you can't compare to anything.
HOW DOES IT WORK?
Flyboarding in Limburg at Fun Beach Event & Leisurepark, the only Flyboarding Experience Centre in the south of the Netherlands. A sensational new experience you cannot compare to anything else. The Flyboard is a nifty device powered by powerful water beams. It's hooked up to a jet ski with a 15-meter long water hose that will literally let you fly above the water.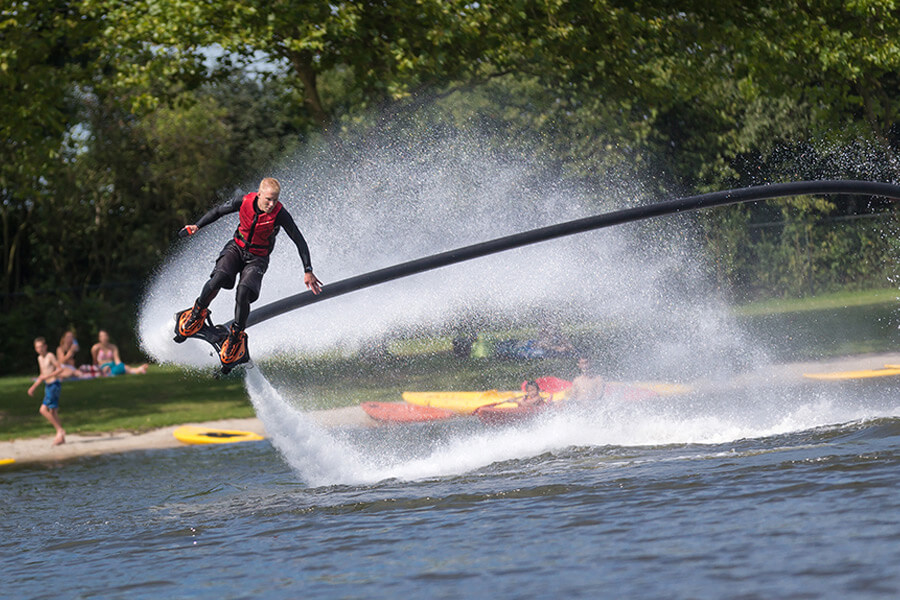 Within no time at all and a little bit of practice, you will become a flyboarding champion and you're making all kinds of acrobatic feats. In, on and above the water, from left to right, up and down! Become a real superhero and experience an adrenaline kick you'll never forget! So put on your wetsuit and go flyboarding at Fun Beach Event & Leisurepark. With the aid of our experienced instructors, anyone can learn the basics of Flyboarding.
INFORMATION
Including:
Professional instructions
Wetsuit
Swimming vest
Information:
Swimming certificate is required
Only for 16 years and above
Remember to bring swimwear and a towel
Reserve for one person, every Sunday between 15.00 - 17.00 from May the 1th until September 30th.