THE COOLEST ACTIVITIES FOR YOUNG AND OLD AT FUN BEACH
Purchase your day ticket or subscription here
At Fun Beach you can not only enjoy a relaxing day at the beach, but also if you feel like having an active day, there is plenty to see and do at Fun Beach.
Below you will find an overview of all the activities that can be done at Fun Beach. There is something for every age: even the little ones can enjoy themselves at Little Beach! Fun, active relaxation and safety are the top priorities at Fun Beach. Most activities are included in the entrance fee. Fun guaranteed!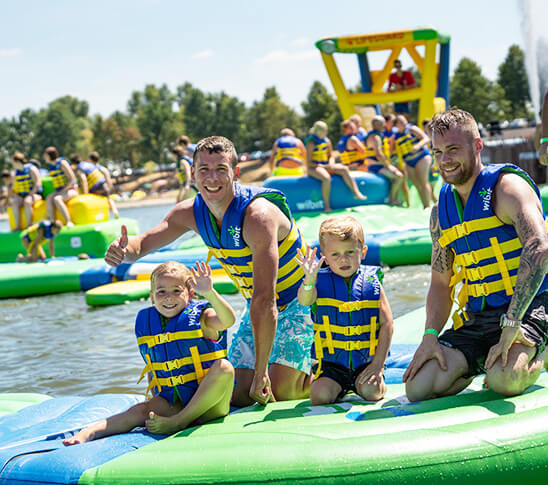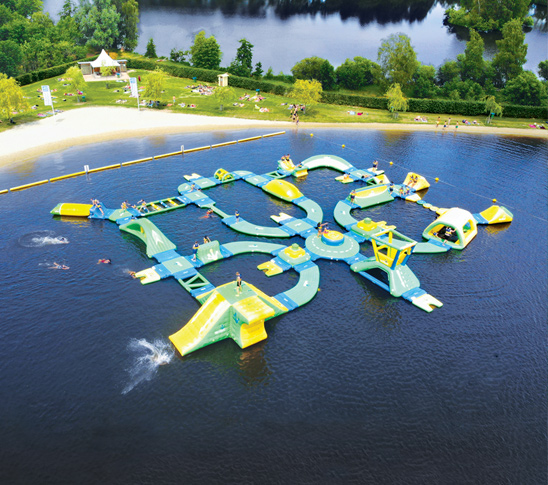 THE largest aquapark in the netherlands
The ultimate water attraction at Fun Beach The Beach is the Mega Aquapark. This largest Aquapark of the Netherlands consists of a 2,000 m2 island of floating play equipment in the middle of the water. A feast for the eyes and a true play paradise for everyone who loves to clamber around, slide and jump.
LITTLE BEACH
Climbing, sliding, jumping and splashing until you can't take it anymore!
Little Beach, the specially designed area of Fun Beach for children up to 12 years of age, is a true play paradise. Little Beach is a non-smoking part of the daytime beach with lots of new attractions! Young visitors can enjoy themselves undisturbed in one of the many fun activities. Discover and have fun!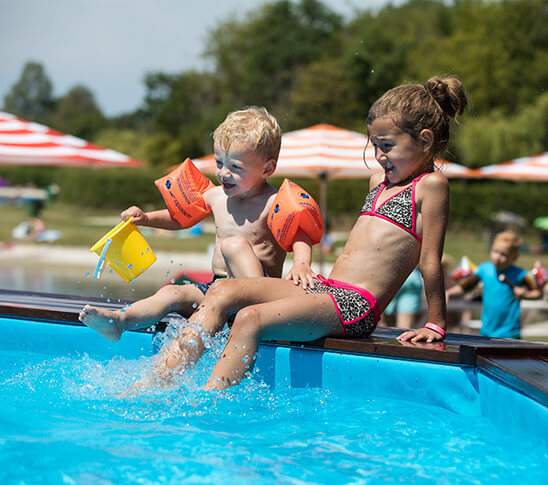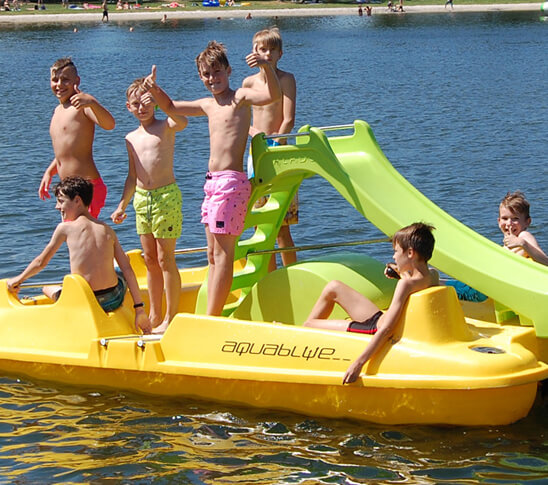 RENTAL
At Fun Beach you can also rent all kinds of fun things to make your day even more fun. At Fun Harbour you can rent canoes, Suppen and pedal boats for a certain period of time.
You can also rent parasols and sun beds at one of our entry points.
FUN BEACH FOUNTAIN, one of the highest fountains in the world!
The literal and figurative highlight of Fun Beach Event & Leisure Park is the Fun Beach Fountain. On warm summer days this spectacular giant fountain is the eye-catcher of the Maasplassen area in Central Limburg and, with its maximum spray height of no less than 120 metres, one of the highest fountains in Europe!

MORE INFO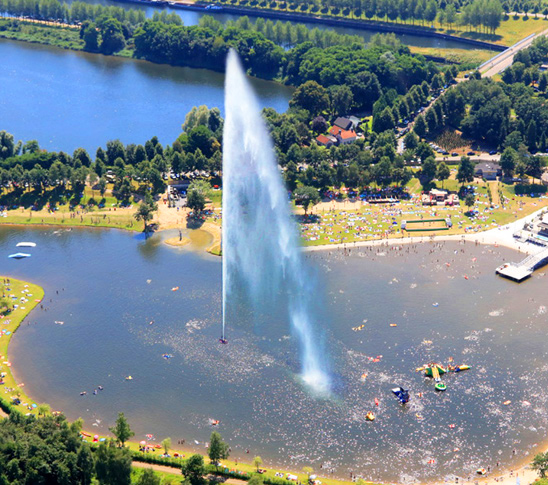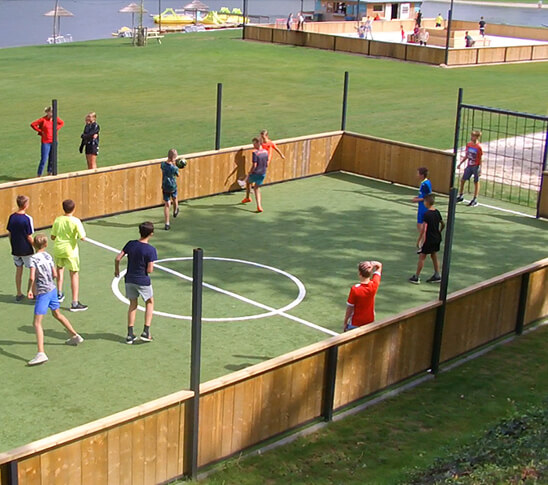 FOOTBALL BOARDING
Make your beach day complete with a nice game of football. At our football boarding area at Fun Beach you can play football with or against your friends. Make two teams and choose a side! Who will score the most goals?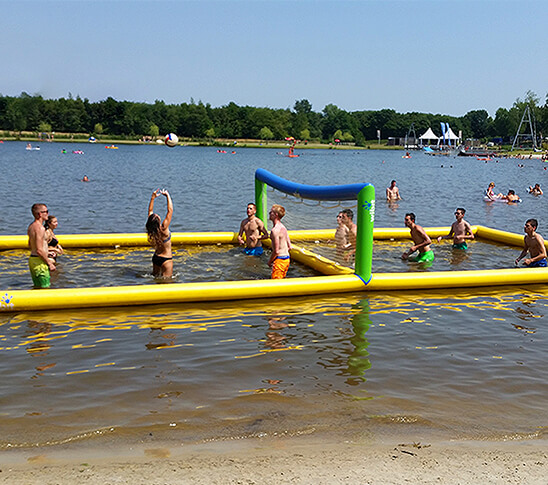 WATERVOLLEY

Smash. dive and jump! Water volleyball is one of the most fun sports activities in the water. Play with or against your friends and make sure the ball ends up in the water with your opponent! Will you claim that splashing victory?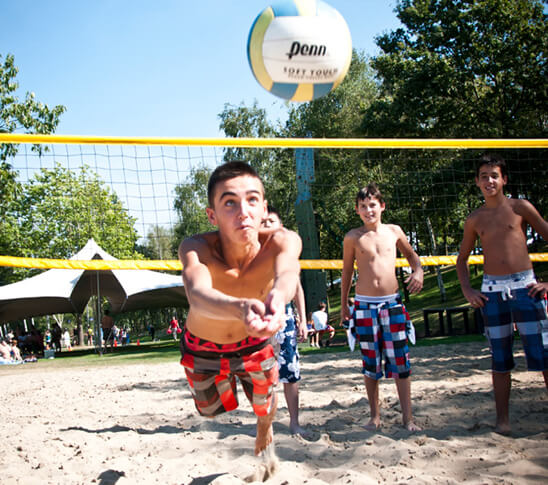 Beach volley

Challenge your friends to a game of beachvolley on the beach and make the most spectacular saves in the sand. Beachvolley is one of the most famous beach sports and you can play it now at Fun Beach!

SUPER SLIDE
At the moment, the Super Slide is under construction.
It is expected to be ready at the end of July.
The newest water attraction of Fun Beach is the Super Slide: a spectacular giant slide with four water jumps from which you slide at a blistering speed. It's a top-class experience that gradually builds up the suspense. First you see on a screen an instruction on how to go down the slide. For extra protection for body and soul, you wear a helmet and a body protector. Once at the top, there is no way back and you can choose from one of the four slides.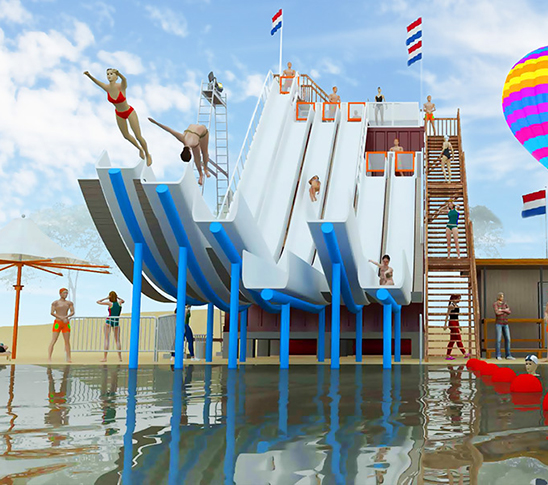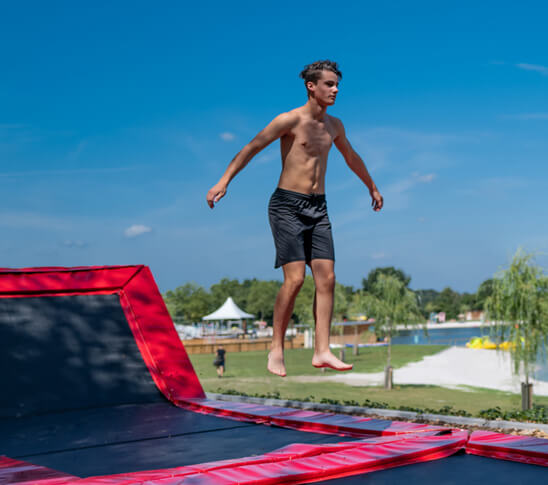 CURVE-ONE

You stand on the trampoline with your bare feet. You start carefully, but after a few small jumps you soon get the hang of it and start making higher jumps. Have fun on the CURVE-ONE: the newest revolution in the trampoline field! Thanks to the tiltable jumping mat, the trampoline can be placed at an angle, or just flat. In short, a super trampoline for ultimate fun and lots of jumping pleasure! Suitable for children from 6 years of age.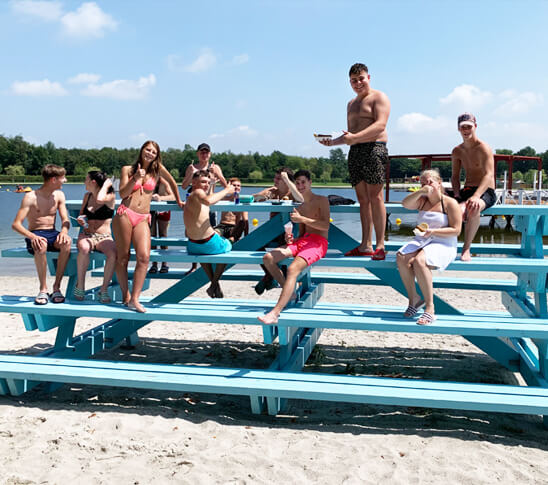 GIANT PICKNICK TABLE
A gigantic picnic table where you can sit down with as many as 60 people to satisfy your appetite. You have never seen anything like it! A group photo must be taken at this immense table, otherwise no one at home will believe your story! And do you know what else is great? The children can also have a great time clambering around on the Giant Picnic Table.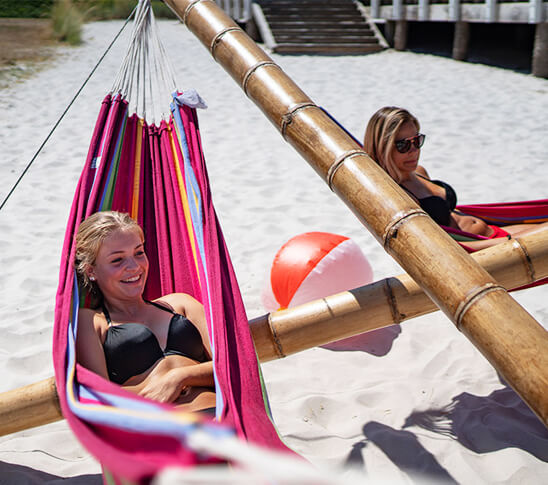 RELAX AREA

After all the splashing, climbing, sliding and sporting at Fun Beach The Beach, it's high time to take a break from all those efforts. In the four hammocks of the shady Relax Area, you can imagine yourself on a deserted tropical island and completely relax. What a great hangout! Away from all the hustle and bustle and just chill out!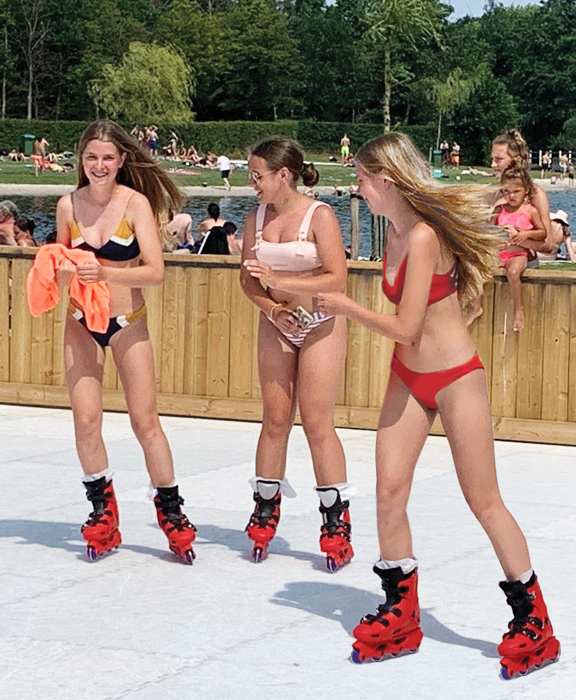 SUMMER SKATING
Imagine ice skating or ice hockey at twenty degrees above zero. You have never experienced anything like it! The Summer Skating and Summer Ice Hockey at Fun Beach make it possible. On specially developed skates you can glide over the synthetic rink in no time like a true skating champion. Experience the ultimate skating experience in the heart of summer!
Summer Skating is included in the entrance price and is open every day from 12.00 to 17.00.
An extra cool experience is the silent disco. With wireless headphones you swing over the skating rink to the music of the DJ. Choose blue, green or red headphones and determine your own music style. The silent disco takes place regularly. For the exact dates keep an eye on this website and the Facebook page of Fun Beach!