INFORMatIon
On the ticket site, you can see if we are open today. Always buy your tickets online in advance. We do not sell tickets at the ticket window!
Openinghours

May/June/Sept: 11:00 to 18:00

Juli/ aug: 10:00 to 19:00

Children up to 4 years
FREE
Entrance
€ 9,95 p.p.
Yearly subscription
€ 75,00 p.p.
(from 4 years of age)
Parking
FREE
Aquaparken
FREE

The aqua parks are included in the price. However, you will need an admission ticket for this. This can be obtained by scanning your ticket or season ticket at the aqua park reservation kiosk.
Please note: access to the aqua parks is only possible if you have sufficient swimming skills and are at least 4 years old.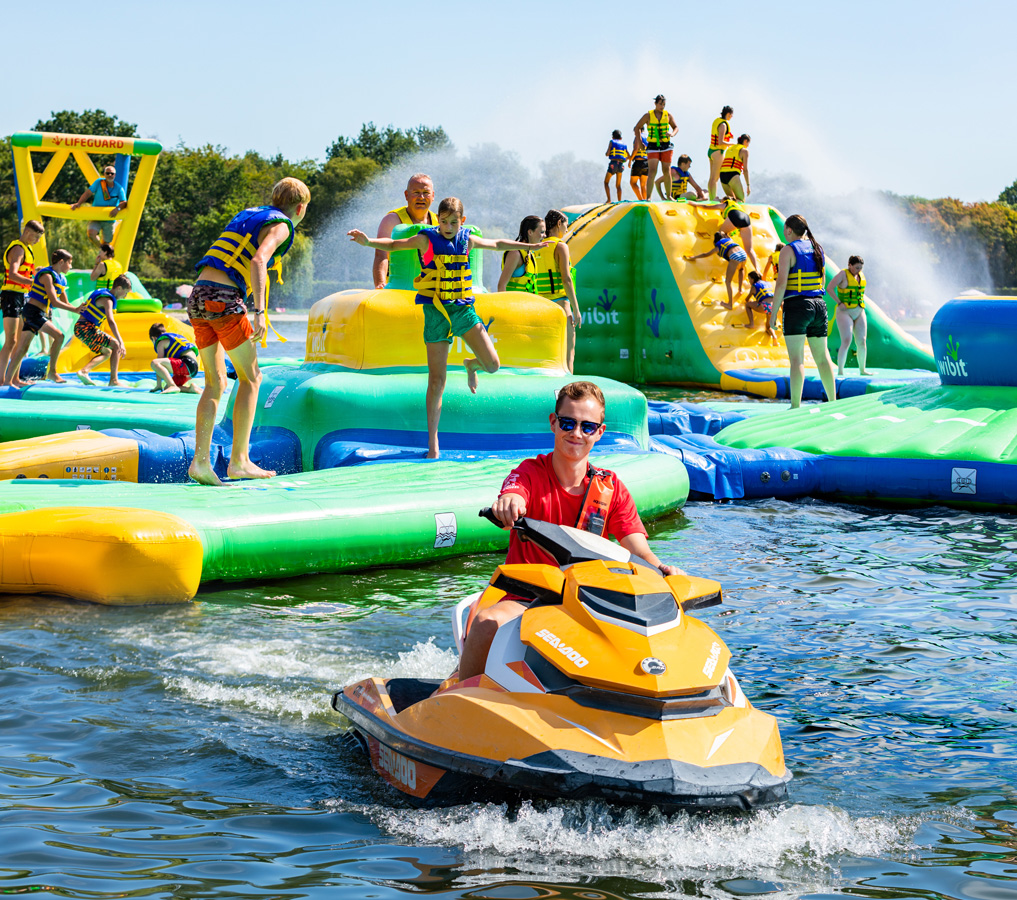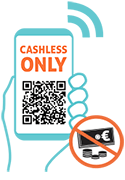 FUN BEACH EVENT & LEISUREPARK IS COMPLETELY CASHLESS!
This means that we no longer accept cash and that you can easily and quickly pay for all Fun Beach orders with a debit card or mobile payment. We do this for your safety and ours. Moreover, we do this to avoid queues so everyone can be helped faster. Did you know that you can even reserve your beach bed, parasol, canoe, SUP, and pedal boat online in advance?

CASH IN POCKET? EXCHANGE YOUR CASH FOR A FUN BEACH CARD
We are introducing the Fun Beach Card for people who still want to pay cash. This card is available at the entrance and can be topped up from €10. The Fun Beach Card can be spent at all our food & drink points. The credit is valid for two years after activation and cannot be paid out in cash.
How do I order an online day ticket?

It is very easy to order your ticket online.
Please note; Separate sales at the box office and reservations by phone are NOT possible!
How it works:
Click on the "THE BEACH TICKETS" icon at the top right of the screen.
Go to "Day ticket" and click on the shopping cart.
Select the number of people.
Select the desired day of your visit.
Complete the payment.
You will receive an e-mail with a link where the tickets are added. Have these tickets scanned at the entrance and you will have access to a day of Fun Beach and chill.
In the unlikely event that you cannot make it on the reserved date, it is possible to rebook this date. Please note: We will then have to charge a €2.50 administration fee. Have you reserved parasols? Then you can rebook them free of charge.
How does a subscription work?

As a loyal Fun Beach The Beach visitor, you always have access to the park! However, you do need to register before you come. You can do this easily in your Fun Beach account.

Please note: entry is not possible without registration.
How do we proceed?
Every season ticket holder can reserve a maximum of 3 visiting days at the same time.
You can register for your visit up to a maximum of one day in advance (noon).
There is always room for you as a loyal visitor until the time mentioned above!
If you have already reserved 3 visiting days, your next reservation opportunity is as soon as one visiting day has passed.
This means you can still come as often as you like!
HOW CAN I REBOOK MY UNUSED DAY TICKETS?

Not such nice weather after all? All unused tickets can be rebooked at any time, even after the ticket validity date.
Tickets for sunbeds & umbrellas, pedal boats, sups, canoes and superslide can be rebooked once for FREE. After that the tickets cannot be rebooked.
Entrance tickets can be rebooked unlimitedly. For each rebooking you pay €2.50 per ticket.
Tickets can be rebooked via your Fun Beach Account on our ticket website.
Click on login at the top right of the page.
Log in with the e-mail address used to purchase the tickets
Click on 'Purchase History' in the top bar.
Here you will see an overview of all tickets ordered. Next to unused tickets you will find the 'Rebook' button
Choose the new date for your ticket and click on rebook
Check your shopping cart at 'My Cart' at the top of the bar and proceed to checkout
Complete the payment process (rental and superslide rebooking is free, it will say €0.00)
Your tickets have now been rebooked! You will find them in your mailbox and in your Fun Beach account under 'My Orders'
Signed up with a subscription, but I am unexpectedly prevented, what now?

On your reserved visit day, you will receive a reminder e-mail of your registration at 08.00 in the morning. In this e-mail, you will also find a link, which allows you to cancel your visit with a click of a button. This can be done no later than 12.00 in the morning on the day itself!
Cancellations after 12.00 noon, unfortunately, cannot be processed. Fun Beach would like to ask you not to occupy unnecessary space.
Of course, you can also cancel much earlier and do not have to wait for the above reminder e-mail. Log in to My Fun Beach account and click away the notified day.
Signed up with a subscription, but I haven't been to the Beach for whatever reason?

If you had signed up but we did not see you at Fun Beach, you will receive a notification via e-mail at 7 pm. This will state that you did not make use of your reserved visit day. Of course, this can always happen unexpectedly. However, if this happens a second time on the same subscription number, a sanction will unfortunately follow.
In case of a second "no show", you can only register for a new day by paying a one-off entrance fee of € 8.50. After this payment, the season ticket will be released for registration again.
PLEASE NOTE: by canceling on time (before 12.00 noon on the day itself), you avoid disappointment.
I have a subscription and want to come to The Beach last minute. Is this possible?

Of course, you are still most welcome, however, admission is no longer guaranteed. VOL = VOL. If the maximum number of visitors for that day has been reached, we can unfortunately no longer offer you access to the park. So go to the site, log in to my Fun Beach, and check whether there are still tickets available!
AQUAFUN Rental
| | | |
| --- | --- | --- |
| 1 person canoe 45 min. * | € | 7,50 |
| 2-person canoe 45 min. * | € | 13,50 |
| SUP 45 min. * | € | 7,50 |
| Pedal boat 45 min. * | € | 17,50 |

* For this rental item we ask € 5.00 deposit. The starting point/pick-up point for rentals is Fun Harbour.
Aquafun
Rental times
From 11.15 to 12.00
From 12.00 to 12.45
From 12.45 to 13.30
From 13.30 to 14.15
From 14.15 to 15.00
From 15.00 to 15.45
From 15.45 to 16.30
From 16.30 to 17.15
From 17.15 to 18.00
Please note: The rental time slots include turnaround time. Therefore, the actual rental time may vary from the indicated time blocks.
AQUAFUN Rules
Participation at your own risk.
A swimming diploma is required.
Canoeing, paddle boating, and stand-up paddleboarding (SUP) are prohibited within the floating lines.
Upon signal, please return immediately.

Wearing a life jacket is mandatory for everyone! Life jackets are provided by Fun Beach.
Fun harbour
shop
| | | |
| --- | --- | --- |
| Inflatable wings | € | 2,50 |
| Swim diapers (3 items) | € | 5,00 |
| Baby swimming ring | € | 10,00 |
| Kids life jacket | € | 25,00 |
| | | |
| Beachball | € | 5,00 |
| Beachball | € | 10,00 |
| Life jacket | € | 10,00 |
| Sun Protection | € | 10,00 |
Beach items rental
Beachbed per day*
Wicker parasol
incl. 2 beachbeds per day *
€ 10,00
€ 30,00


* for this rental item we ask a €5,00 deposit
Not allowed
Butts on lawn
Sound/boomboxes (but music from your phone)
Pets
Barbecue
Tents
Shisha (water pipe)
Nitrous oxide
Drugs
Sport fishing
Waste around your berth
Parking
Parking at Fun Beach Event & Leisurepark is free. Just like parking your bicycle. There is sufficient space on and near the park for this.
LOCKERS
At the kiosk, Plage Nord, Fun Harbour and Little beach there are locker cabinets where you can safely store your valuables. This costs €4.95 per day.
OTHER
Fun Beach Event & Leisure Park has free Wi-Fi.
At all entry points and food corners, payment can only be made by pin.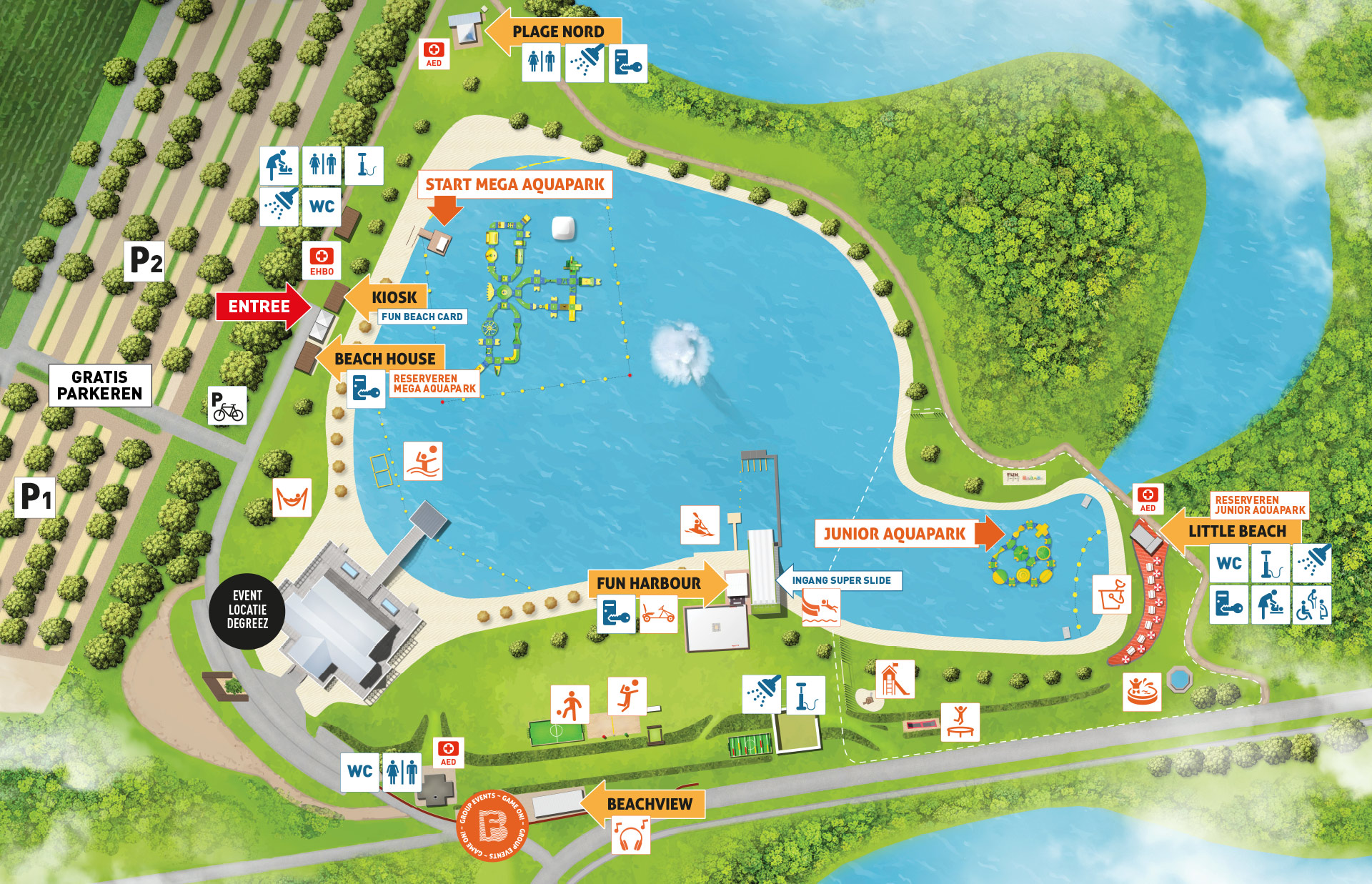 BEACH FUN
BEACH VOLLEYBALL
FOOTBALL BOARDING
RELAX AREA
SUPER SLIDE
GO-KARTS
WATER VOLLEY
SILENT DISCO
AQUAFUN RENTAL
LITTLE BEACH
Smokefree zone
paddling pool
TRAMPOLINE
TODDLER BEACH
MEGA PLAYGROUND
facilities
EHBO
TOILETs
DRESSING ROOMS
BABY CARE
SHOWE
AIR PUMP
LOCKERS
TOILET FOR DISABLED